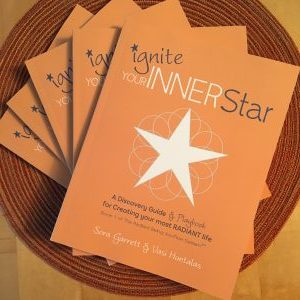 Ignite Your Inner Star
More than a book, this is a self-guided, life-igniting, program for creating a life of clarity of purpose and alignment with your most vivid vision of being.
The full program comes with Discovery Guide, Joybook, Creative Companion, and audio meditations for connecting with all the rays of your Inner Star, giving you a simple model of wholeness that will keep you shining.
Joyful Simplicity
SIMPLE Spaces: 21 days to Clear Clutter and Open Space for JOY interactive e-course

Simplicize Your Life!
Organizing made simple.
Bite-size activities to right-size your life, complete with daily, weekly, monthly & seasonal suggestions for keeping all your spaces clear and shining.
Simply Shine Products
An inspirational line of products that will give to you while they give back to the world.
Wearable art and reminders to grow a simple life … if you are in complete minimalist mode, check out the low-impact kindle version of my books!