Simply Enough
Create Space for What Matters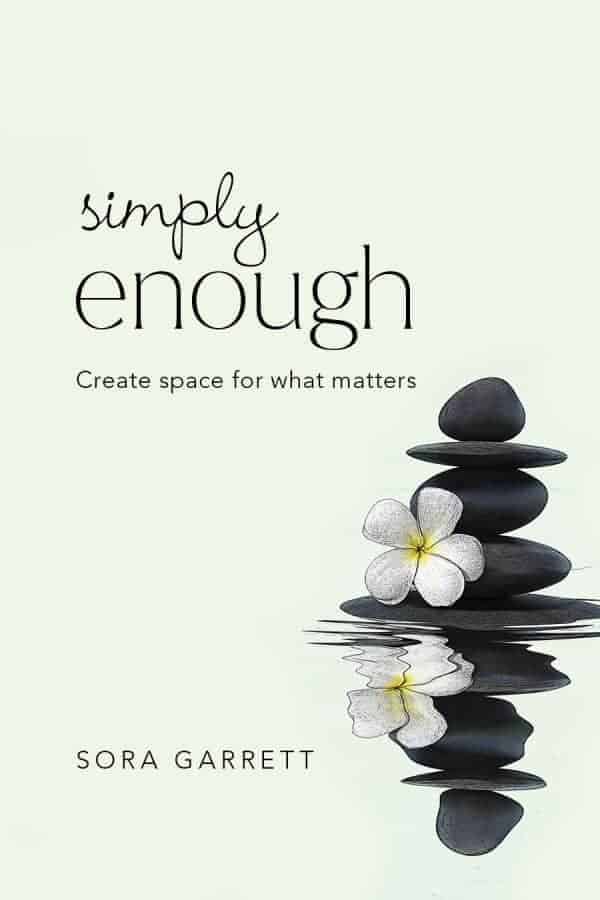 What would it be like to have more time to devote to what you love, without the distractions of having too much of what you don't need?

Simply Enough will take you on a journey through the layers of your stuff, to the essence of your Self…which may change more than just your own life. As enough of us clear away the non-essential to focus on the meaningful, perhaps we might even change the world.
Designed with a rhythm to take you on a whole-system approach to clearing your clutter, Simply Enough guides you with poetic insight, relevant examples, revealing questions, and practical activities to help you get clear on what is most important as it encourages you to let go of what is not.

Breathe new life back into your life. Let this book show you how.
"Simply Enough presents the journey towards simplicity in a fresh and thought-provoking way, prompting us to delve to the bottom of physical clutter, right to the reason it exists." -Beth, NJ
"As a feng shui practitioner, I know how creating beautiful & peaceful space in our homes, hearts, and lives allows for deep inner fulfillment. This book offers thoughtful guidance that will benefit all aspects of your life-space…heart, mind, body, and soul. I simply adore this book!!!
-Laura, NC

" A great resource for finding space in life and living elegantly. Also an excellent book to facilitate group discussions for defining your relationship with excess and simplification. Choose to invest in yourself by reading this important book!"  -Natasha, South Africa

"Simply Enough was the perfect read for me at a time of hyper-simplifying my life…like having a companion along with me during my journey. Your words bring much comfort along with practical ideas for moving through the layers." -Petalyn, OR

"A blend of poetic wisdom and practical advice, personal and humanitarian transformation, Simply Enough invites readers to let go of more than
excess possessions. It beckons them to open space in their lives
to become a solution for the world."

"This is a book I will treasure and read again and again!  I love how descriptive vs. prescriptive it is, inviting rather than directing. I've given away most of the simplicity books I accumulated over the years. I will keep this one and forget all the rest!"  -Lora, WA
"I think this book is very important, addressing the notion of simplifying not just as some idealized "new age" expectation, but as a moral imperative in order to fulfill our call to the common good." –Gail, FL
"Reading this book was a beautiful journey, showing all the layers we hold onto…at times from feelings of not being enough. This book is a true gift of awareness that as we clear our physical and mental clutter, we will begin to see the abundance we already have." –Nancy, ID

This book is an invitation to go beneath the surface of your clutter into the essence of your life…to look for what may have gotten lost beneath the layers of everyday living. -Sora