It's November, and everywhere I turn there are reminders to count our blessings and give thanks.
I resist adding more of the same, but why?
If a month wants to claim my gratitude, inspire 30-day challenges, and invite me to converse about this favorite topic, what's to stop me from heaping an extra helping of the same onto the gratitude plate?
I stop resisting and join the flow. How many ways can I be grateful?
Plenty. Even during a month and year that will go down in history as one of the most difficult & divisive for our nation and world.
Here are 3 simple ways I'm serving gratitude this month. I encourage you to pass them on.
________________________________
Sip on Gratitude
I was inspired to create another Sip of Simplicity video meditation with one of the poems from my Simply Enough book with the music of Eyra Moon, an artist-muse I met on Linked In. I invite you to breathe the words into your heart then out into your world for 3:33 minutes. (Listen all the way to the end to receive the full imprint from this collaborative gratitude expression.)
________________________________
Glow with Gratitude
My good friend, Vasi Huntalas, invited me to talk about embodying gratitude on her FLOW & GLOW Facebook Live series earlier this month. We realized we've been showering our clients (and each other) with gratitude practices for the past 20 years. Which is why this 30-min conversation was about living our thanks, not just giving it. When we embody gratitude, it flows through everything we do, and our whole life begins to glow more brightly. LISTEN HERE
________________________________
Ripple Gratitude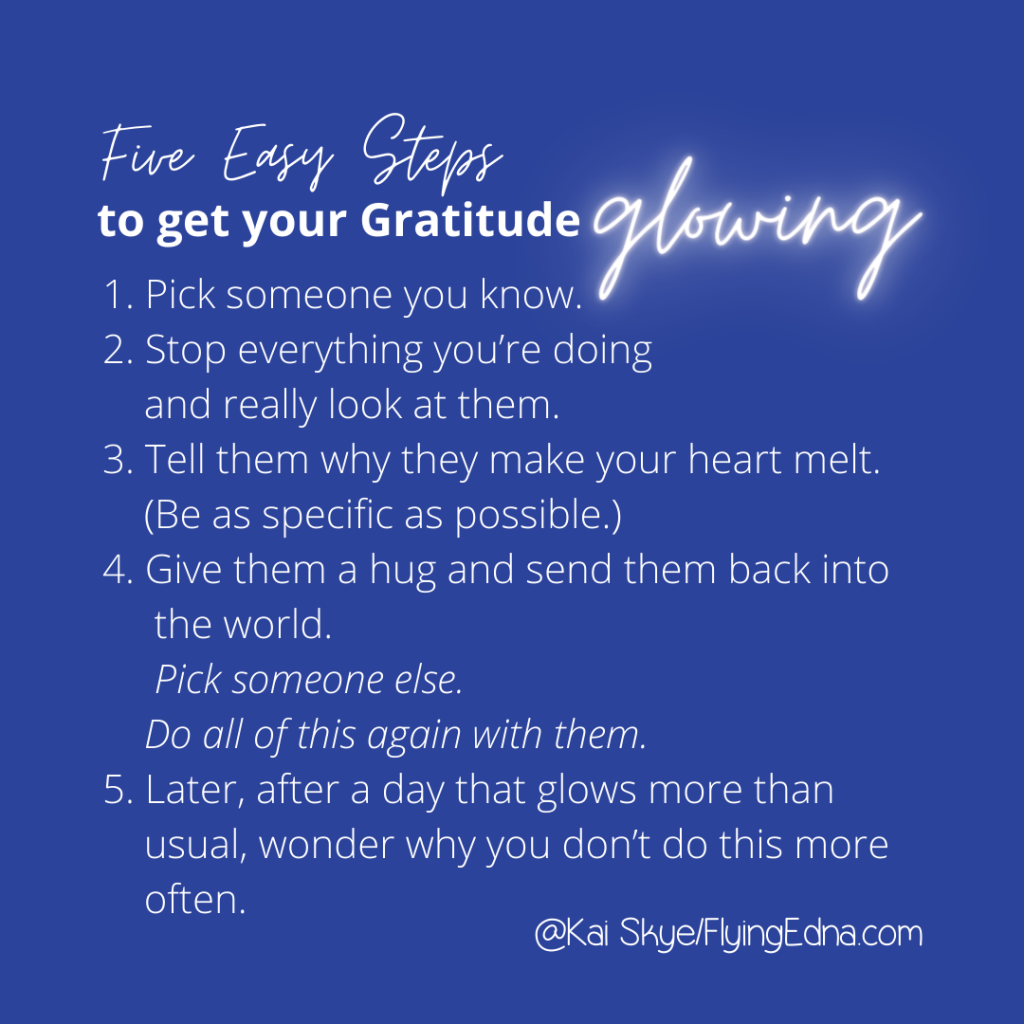 I've been rippling appreciation on Facebook using this poem by Kai Skye, because WELL, what better way to celebrate the month of Gratitude?
Join the online ripple by tagging someone you want to appreciate & inviting them to pass it on … or simply begin with the person next to you and actually look into their eyes … or ripple your appreciation by phone or zoom in honor of COVID-19.
Click to READ the whole 5 Easy Steps poem & find other awesome ART by Kai Skye, pka Brian Andreas
☆ ☆ ☆
Let your appreciation create a ripple of love in your own world, then watch to see if your view of the rest of the world might change, too.
This is the ultimate purpose of gratitude: to open & connect hearts through sharing.
As we lean into the effects of a divided nation and consider how we might come together to create solutions rather than continue to put so much energy into choosing sides, let us remember that everything works better with gratitude.
Gratitude is the thread that weaves us together when we are broken apart by the challenges of life. Thank You is a universal prayer that bridges differences. Appreciation is a common language that opens doors between cultures.
If there is a final exam, Gratitude is likely the Answer.
So, keep passing it around, no matter what month or year. Let your thanks be for giving, as you attune to the ongoing practice of thanks living. 😉
It's time to simply (and gratefully) shine…together! ~Sor'a