Winter Stillness.
Snowflakes falling, white on white.
Twinkling lights, brightening the night.
Fires burning to keep us warm.
Hearts opening, friends linking arms.
The space between notes, a silent sigh.
Smiles between neighbors, stars up high.
A memory of childhood, a cherished book.
Saying 'I love you' with a meaningful look.
Winter berries against a brilliant blue sky.
Love so big it makes you cry.
Through all the chaos and holiday noise…
Make time to cherish these simple joys
__________________________
Have you lost your holiday twinkle?
It's easy to do when the noise of the world interrupts our stillness, and life is so full that we forget to even look up to notice the beauty.
I was standing beneath this Mountain Ash tree the other day, texting my daughter, when I felt a plop on my head. Then another. At first I thought it was hail. When I looked up to see these bright red berries against a brilliant blue sky, I laughed out loud.
Then, silently admonishing myself, I put my phone away and went for a walk.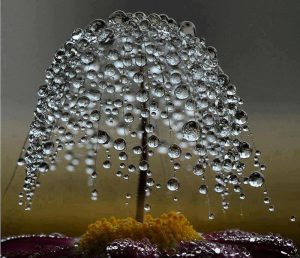 Winter holidays are intended as a time of remembering, a time to gather, a time to bring the essence of love front and center in all that we do.
But when we get so caught up in the flurry of activity, we often miss the simple joys the season can bring.
This is a good time of year to really look at your traditions, habits, and all that you do to 'go along with the crowd' rather than consciously choosing your own path.
Create space this year to really peer into your holidays (holy days) to see what truly makes you happy, what gives meaning to your life right now, this year, in a "letting go of the old & opening to the new" way that will make your heart sing.
Let every day be a holy day. Turn your life into an ongoing celebration of Love and Joy. Ring in the New, all year through. Give thanks, every day. Open your heart to the merry and give with grace every chance you get.
Let your Light shine bright into all the dark places, not just in winter but every day of the year.
Wishing you JOY and WONDER, and a Berry Merry Christmas.  ★Sparkling Sora